Laser Therapy in Louisville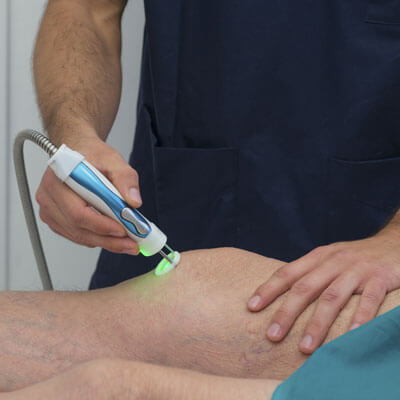 At Louisville Spine and Wellness, we believe in helping our patients unlock their true health potential, naturally. We do that by offering advanced techniques and modalities designed to aid in your natural healing process.
We're proud to offer two different low-level lasers for patients of all walks of life–from athletes to sufferers of chronic or acute pain and everyone in between.
The Process of Healing
Your body is designed to self heal. Sometimes, the process of healing can take longer than we'd like–especially when our body is dealing with inflammation or interference elsewhere.
That's where lasers come in.
These advanced, pain-free devices backed by the FDA have been proven to help increase healing by 33%–that means helping you get back to living the life you love quicker. Lasers achieve this by targeting sick, diseased or injured cells in the body through a process called phototherapy. Phototherapy super-charges these cells to heal quicker.
The best part? We can use light therapy on nearly every part of the body–from the arms, legs, hips and knees to your gut and even head! More so, light therapy continues to produce results for up to 48 hours after a session.
Lasers have been proven to help with wound pain and inflammation, along with healing and reducing infection.
While every patients needs are unique, we generally incorporate laser therapy into weekly sessions.
Schedule Your Appointment
We'd love to speak with you more about how we can help you achieve your goals in natural health. To learn more about what we offer, contact us today to book an appointment. We can't wait to welcome you into our care.
CONTACT US »

Laser Therapy Louisville KY | (502) 893-8887